25 Nov

Aqua Vista Hotels Makes Waves at 100% Hotel Show, Forging Collaborations and Sharing Expertise

Aqua Vista Hotels , as leading hotel management company specializing in boutique luxury accommodations, made its presence felt at the renowned Greek exhibition for hoteliers, the 100% Hotel Show. Held at MEC Paianias from 18th to 21st November, this prestigious event provided an ideal platform for Aqua Vista Hotels to connect with hoteliers from across Greece, laying the groundwork for potential collaborations. The company's representatives also took part in a side event workshop, sharing their expertise on how hoteliers can benefit from Aqua Vista Hotels' know-how to enhance their occupancies and turn overs.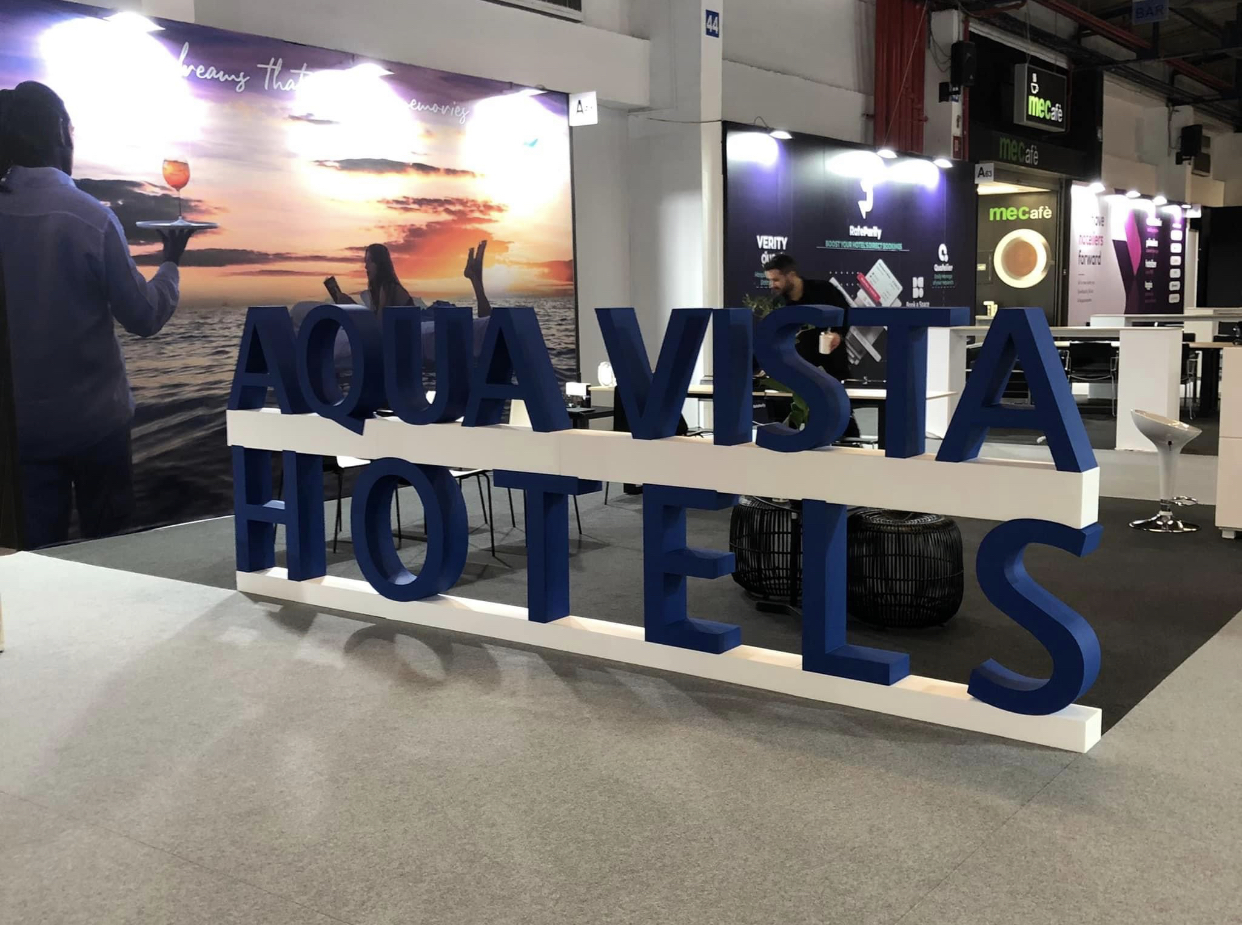 As an exhibitor at the 100% Hotel Show, Aqua Vista Hotels seized the opportunity to engage in meaningful conversations with hoteliers from various regions of Greece. These interactions enabled the company to establish valuable connections and explore potential collaborations. With their extensive industry knowledge and expertise, Aqua Vista Hotels' representatives were well-positioned to offer insights and solutions tailored to the specific needs of hoteliers.
Participating in the 100% Hotel Show reaffirmed Aqua Vista Hotels' commitment to driving innovation and excellence in the hospitality industry. By engaging with hoteliers and sharing their wealth of expertise, the company aims to elevate the standards of the Greek hotel industry as a whole. Through collaborations and knowledge-sharing, Aqua Vista Hotels strives to empower hoteliers to achieve higher occupancies, improved guest experiences, and enhanced financial performance.
The involvement of Aqua Vista Hotels extended beyond the exhibition floor. During a side event workshop, Aqua Vista Hotels' COO, Mrs. Sofia Matzourani, and Assistant Director of Sales, Mr. Nikos Tsatsarakis, took to the podium to share their expertise with fellow hoteliers. The workshop focused on how hoteliers can leverage Aqua Vista Hotels' knowledge and experience to elevate their occupancies and increase their turnovers. By providing valuable insights and practical strategies, the Aqua Vista Hotels team empowered hoteliers to optimize their operations and maximize their success.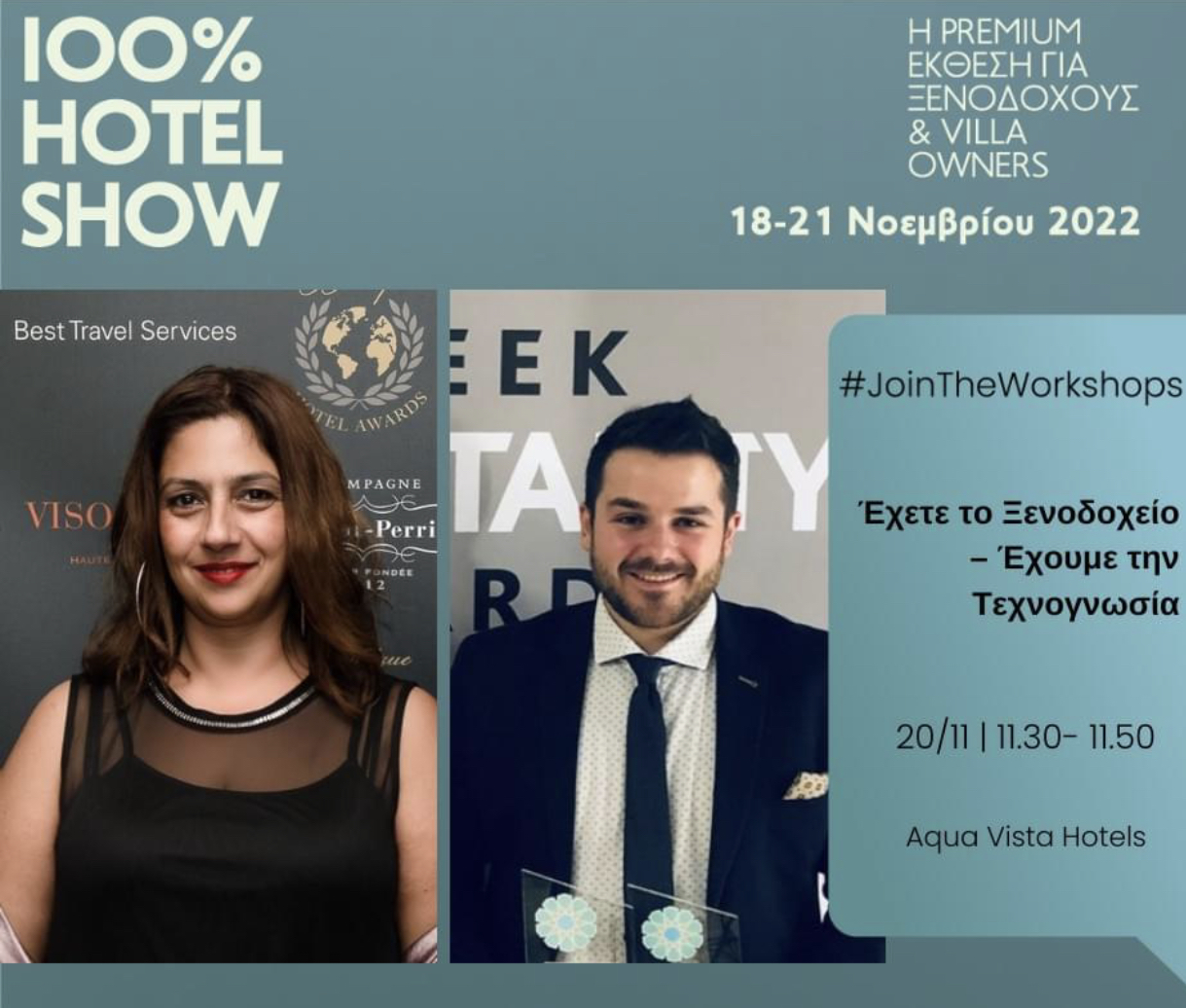 The 100% Hotel Show featured an enlightening discussion on the added value of collaborating with a hotel management company. Aqua Vista Hotels' Founder & CEO, Mr. George Grafakos, was invited to join Mr. Nikos Morantis of the Hotelier Academy on stage to share his insights. Drawing from his vast experience in the industry, Mr. Grafakos shed light on the advantages that hoteliers can gain from partnering with a hotel management company like Aqua Vista Hotels. From operational efficiency to marketing prowess, the discussion highlighted how such collaborations can drive growth and success for hotel businesses.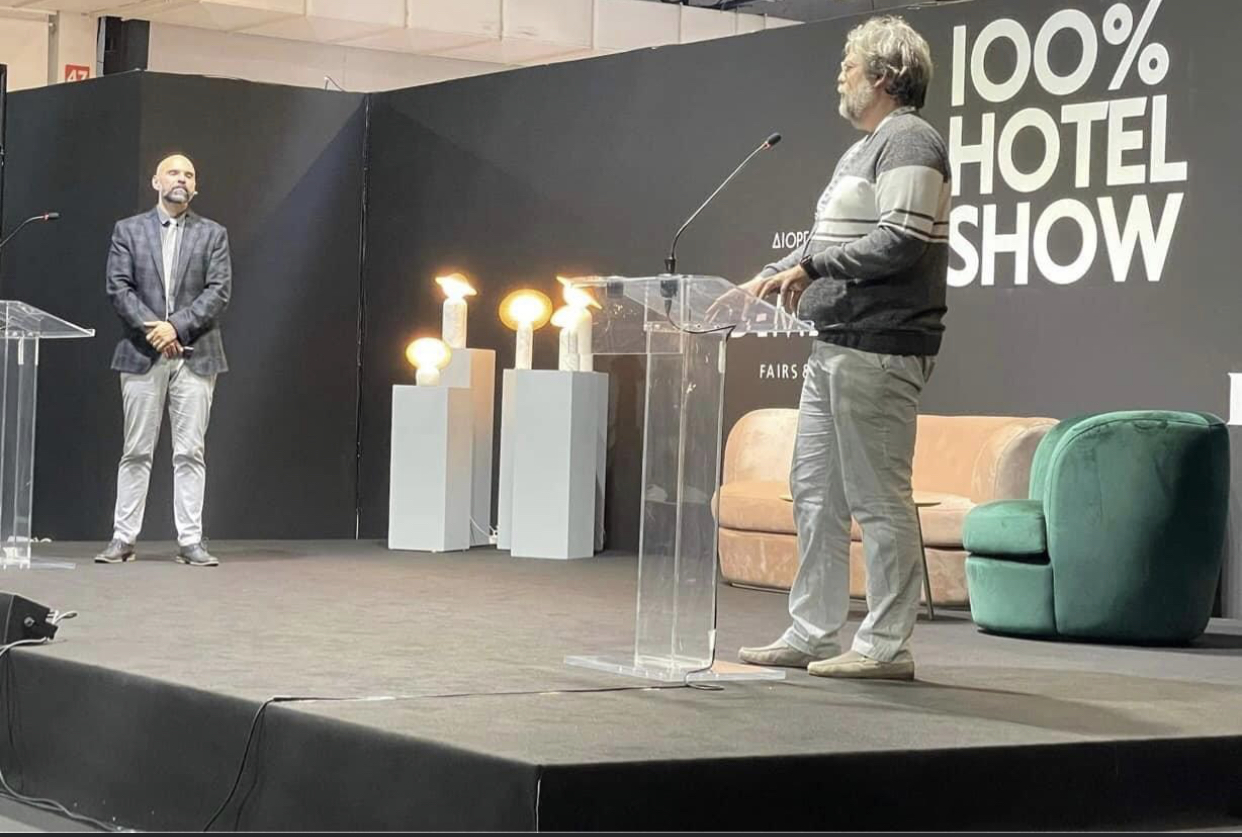 Conclusion: Aqua Vista Hotels' participation in the 100% Hotel Show was a resounding success, providing a platform for meaningful conversations, forging collaborations, and sharing expertise. As an exhibitor, the company demonstrated its dedication to driving innovation and excellence in the Greek hospitality industry. By connecting with hoteliers and offering valuable insights, Aqua Vista Hotels continues to establish itself as a trusted partner for hotel businesses across the country.