14 Feb

Aqua Vista Hotels welcomes four new members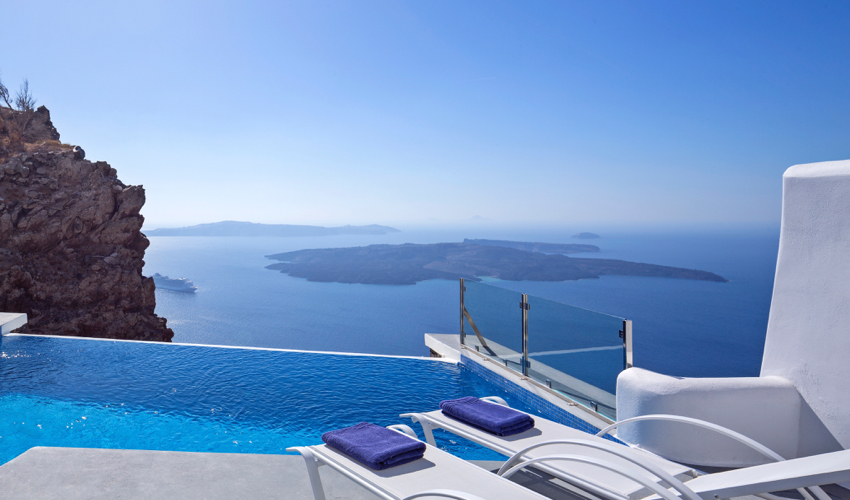 Following a successful summer season, boutique hotel collection Aqua Vista Hotels welcome new exclusive hotels in Greece to its existing portfolio. In its endeavour to offer unique guest experiences in high-end units that are situated in superb locales, the group has hand-picked several truly amazing properties.
From Mykonos to Santorini, two of the most popular tourist destinations in Greece, the latest additions to the group also help to reaffirm Aqua Vista Hotels' presence in the Cyclades.
Two of the newest recruits for the 2014 season can be found on the island of Mykonos, well known for its cosmopolitan lifestyle. The hotels include the Boheme Hotel, famous for its impeccable service and natural, contemporary style. Secondly, Pietra e Mare hotel, a unique atmospheric retreat with a mesmerizing view of Kalo Livadi beach, that makes it a very desirous unit.
The two remaining properties are situated in Santorini, known worldwide for its fabulous sunsets. Angels & Stars suites and spa is a brand new luxury boutique hotel on the Greek Island, which will open its doors for the first time on 1st April 2014. Meli Meli Hotel, a petit and elegant property for those seeking romantic accommodation in Imerovigli has also joined Aqua Vista Hotels' list of unique properties.
Also, for the first time in its history Aqua Vista will be joining forces with a gourmet restaurant, highlighting the versatility in the management services. Mylos bar in Santorini has attracted a loyal following on account of the unique concept (situated in a renovated windmill) and innovative cuisine and the partnership promises to uphold and expand the business on a worldwide scale.