19 Feb

Aqua Vista Hotels wins four awards in Stockholm!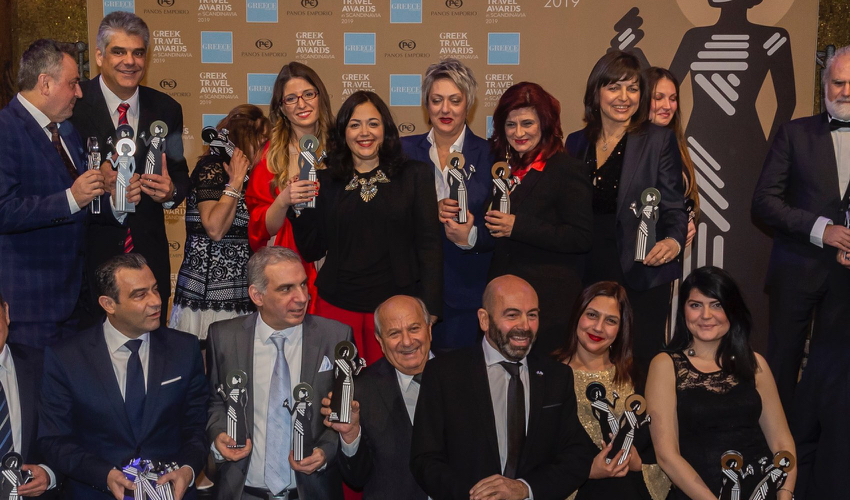 Aqua Vista Hotels received four prestigious awards for select properties within its extensive portfolio of over 35 hotels at the Greek Travel Awards, which were organised for the first time in Sweden on February 14, 2019!
Two of the exemplary premises managed by Aqua Vista Hotels received accolades in the Boutique Hotel category, with Athermi Suites in Santorini and Acqua Vatos Paros being recognised for their elevated services. Apricot & Sea Luxury Villas in Naxos earned a distinguished award in the Family Hotel category and Above Blue Suites in Santorini was accredited in the Luxury Resort/Hotel class.
The prize-giving ceremony took place in the magnificent Golden Hall of the Stockholm City Hall, the very same venue in which the esteemed Nobel Prize awards are held. It was organized by North Events, an agency concerned with the promotion of Greek tourism and the organisation of exhibitions and roadshows.The internationally acclaimed journalist and writer Alexandra Paschalidou was there to present the winners with their unique prize; a beautiful miniature statuette of the hearth goddess Hestia inscribed with the word 'philoxenia' or 'hospitality'.
Mrs Sophia Matzourani, Business Development Manager of Aqua Vista Hotels and Mrs Effie Moraiti, Reservation Manager attended the ceremony and received the awards on behalf of the Group.
Mrs Sophia Matzourani, commented, "It is really an honour to know that members of the public from Sweden, Norway and Denmark, as well as those industry professionals on the jury, voted for four of our hotels in very competitive categories. Having the support of Scandinavia's largest tour operators in promoting Greece as a world-class destination for those seeking exceptional experiences is greatly encouraging. Such positive recognition can only be to the advantage of everyone involved in the country's tourism sector and we are delighted to be at the forefront of that continued growth."
The awards were sponsored by the Greek National Tourism Organisation under the auspices of the Embassy of Greece in Sweden, the Hellenic Republic Ministry of Tourism, the Greek Tourism Confederation (SETE), the Hellenic Chamber of Hotels and the Hellenic Hoteliers Federation.