20 Sep

Aqua Vista Hotels welcomes The Tsitouras Collection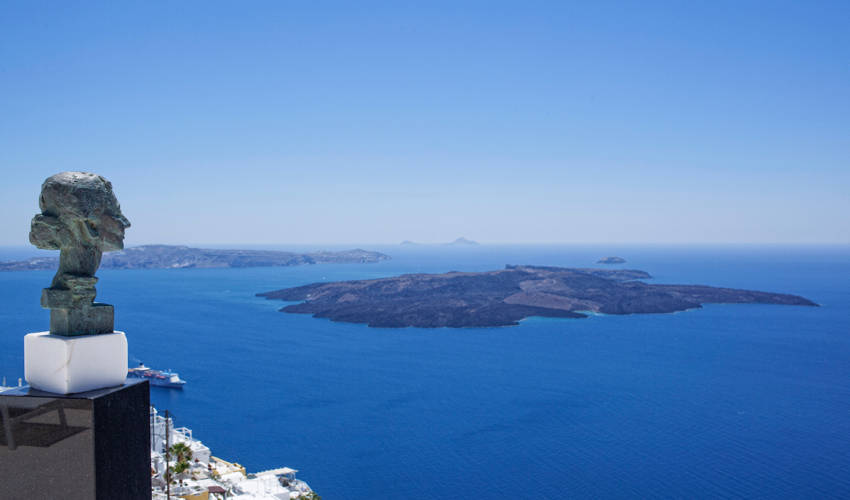 At The Tsitouras Collection, art and hospitality are graciously combined in the unique backdrop of a dramatic landscape, offering the hotel's guests a feeling of unparalleled luxury. At its five individually-designed suites that overlook one of the most spectacular views in the Mediterranean from a thousand-foot cliff, travellers are invited to indulge in the hotel's warm, signature welcome, which is complemented by the precious art works from the owner's private collection that embellish this extraordinary place.
Even if you know nothing about The Tsitouras Collection's past, you will sense its powerful aura; as soon as you find yourself standing by the imposing bust of Maria Callas gazing at the caldera as the sun sets in the horizon you will realise why some of the world's most legendary personalities have been drawn here over the years in search of an inspired and inspiring Santorinian abode.
The Tsitouras Collection is not an ordinary hotel. It is a manifestation of a remarkable hospitality vision that blends imaginative creativity, sophisticated aesthetics and local architecture; a hospitality vision that transcends time and goes beyond the cliched, ordinary, white minimal decor, shaping indelible memories in the minds and hearts of its guests.
The driving force behind this unprecedented approach to the travelling experience is Dimitris Tsitouras, who reinvented Santorini's dominant hospitality concept. The central idea was radical: to create interiors you would encounter in a private home, featuring precious objets d'art amassed over several decades. Underlying it all is a sense of individuality that feels authentic and totally original. The interiors have an exuberant yet profoundly intimate feeling. Everything is thought out in great detail, with a mind to how travellers really use their spaces -from the placement of each piece of furniture to the ease of technology.
A worthy ambassador of Santorini, The Tsitouras Collection is a microcosm for the bigger picture of an island both alluring and artistically profound. Explore it in style!